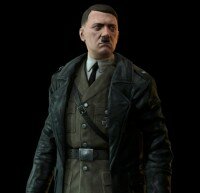 Day one downloadable content has been a controversial subject in recent years. From developers including the DLC on the disk and charging players an extra fee to access it, to cutting out content that should have been included in the main game with the aim of selling it later.
It's arguable that no other piece of downloadable content has been more controversial than Sniper Elite V2′s Assassinate The Fuhrer mission. However this DLC is controversial for a different reason altogether as it allows you to assassinate Adolf Hitler.
Our staff members Adam Radcliffe and Luke Mears have put together a brief video looking at what players can expect from the mission.
Sniper Elite V2 is available to buy right now from all good retailers. All customers that preordered the game will have this mission already for no extra fee.
No word yet on when the mission will be available to buy on Xbox Live Marketplace or PlayStation Network, but given the controversy generated by this mission we don't expect it to take too long to be made available to all.
If you've got this and have managed to shoot off Hitler's only remaining testicle then please leave us a comment and share your story. We'd love to hear from you.