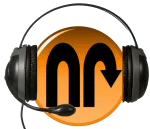 With Europe's biggest gaming event, GamesCom in full swing, this week The Newb Review brings you a special, GamesCom edition of the podcast.
In part 1, Tom sits down and has a chat with Kieran about what he got up to at days 1 and 2 of GamesCom, live from Cologne.
However in a special guest hosting slot, part 2 of this week's podcast is presented by Mary Mears as she's joined by husband Luke, Adam Radcliffe and Richard Burley to tell you guys what they've been up to and take you through this week's community feedback.
ENJOI
MP3 Download / / RSS Feed
Podcast: Play in new window | Download