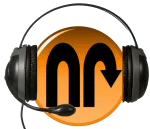 Both Tom and Kieran are away meaning that Jose and special guest host (and fellow newbreview.com editor) Luke Mears have stepped in. As ever they are of course joined by the forever idiotic, Adam Radcliffe.
New host, new podcaster, slightly longer show, new segments and quite a bit of intelligent games debate this week. ALL CHANGE.
Don't worry though, Adam's back with another incoherent thought to balance things out.
MP3 Download / / RSS Feed
Podcast: Play in new window | Download