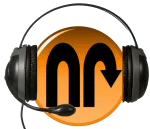 This week is a very special show because.. IT'S OUR CHRISTMAS 2010 SPECIAL! MERRY CHRISTMAS EVERYBODY!
Joining Tom on our very festive show this week are Mr Kieran Roycroft and making his podcast return, Mr Alan Parrish.
Oh and there's a few special appearance by some other contributors too

Combined, this week they guide you through the best EVER Christmas games, their own special Christmas gaming memories, a brand new 60 Second review of X-Men Arcade AND more!
MP3 Download / / RSS Feed
Podcast: Play in new window | Download