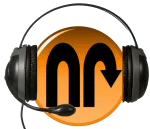 Everyone bar Tom is/was out of the newbreview.com bunkerlow this week (well actually last week but SHUT UP) so he decided to call out a radio station in Chicago and rack up a massive phone bill…
OK not really BUT he did guest on WGN Radio in Chicago talking about games and Gamescom 2012 specifically. So here it is..
Proper show next time. Promise.
MP3 Download / /
Podcast: Play in new window | Download