Early Wednesday morning (3 AM) my friends and I (all eight of us) headed out for Indianapolis, only to arrive 12 hours later. We nabbed badges for those that forgot to preorder and settled into our hotel for a night of pre-gaming er… gaming.
Thursday and Saturday we spent all day in the exhibit hall weaving up and down all 22 aisles checking out every booth and their wares. We got quite a few good demos in. My favorite was the new Star Wars LCG from Fantasy Flight. They altered the beta from last year so it's no longer cooperative. We were intrigued by the gameplay, but deck construction concerned us a little. Instead of picking 60 cards for your deck, you picked deck objectives which came with eight cards to fill your deck. You could put any objectives you wanted into your deck, but the same cards were always tied with those objectives. This probably leads to better balance at the cost of some custom-ability. We'll wait for the official release to pass final judgement.
Watch out baby! There'a a dragon right behind you!
This dragon is made entirely from balloons. It's from the same artist who's made the record-holding largest balloon animal in the world.
Cardhalla. Where dead card games come back to life. The closest tower on the right has Vs. cards right next to Decipher's Star Wars CCG. The two loves of my life (after my wife of course!).
Saturday night is the costume parade. Unfortunately, I didn't have my phone on me when a Chewbacca on stilts came by

But enough of the convention itself. You guys are here for the Vs. content! We held two tournaments on Friday; one at 8 AM, and another at 4 PM.
The first was our constructed Bring Your Own Set tournament. This meant that everyone's deck had to contain cards that all came from the same set. We had 12 of the 19 viable sets represented at the tournament from the 26 participants. Here's the breakdown:
7 MUN
4 MVL
3 MOR
2 MMK
2 MHG
2 DCR
1 DJL
1 DWF
1 DGL
1 MTU
1 MXM
1 DHB
To meet the players, and to see the decklists, please follow this link:
http://w11.zetaboards.com/vssystem/topic/8053896/1/?x=10#post8155938
Here are some of the matches from the tournament:
After five intense rounds, we cut to top four.
There was a sweet trophy on the line (along with packs), so everyone gave it their all!
This year's top four players were: Dave Jones, Aaron Holmes, Matt McDonald, and Wes Givens.
Here's a semi-final bout:
It came down to Dave and Wes in the finals. Here's the bout:
Wes triumphed in the end. Here's a picture of the runner-up Dave:
I'll have to admit that I was secretly rooting for Dave (because no one from our team has yet to bring home the bacon since I've started to run these events), but Wes was such a cool guy that I couldn't stay mad!
Next up we had the Sealed event. This year's featured set was DCR, which is often a popular set for limited. We had a WHOPPING 30 players, which means that both events had a SIGNIFICANT attendance boost over last year!
After five rounds we cut to a top four.
This time we had four different finalists: Martin Lieser, Nick Little, Michael Barnes, and Scott Thompson (yay!). I was paired against Nick, while Martin was put up against Michael. Nick made the joke that it was a "Pros Vs. Joes" situation – and he wasn't joking, because it was Michael and Nick who went on to play in the championship! Luckily we got the championship on tape:
And the winner was…
Not Nick! But he got a box out of the deal. He also has some bragging rights as he's been in the final two for all three years of our sealed tournament. Outstanding!
Michael "BigSpooky" Barnes took home the trophy, which he is literally rubbing in Tim Batow's face right now! Oh, Jason Hager also played in the event, so I snagged a picture of him as well…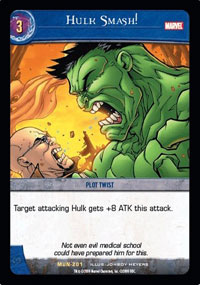 Ok, I didn't actually catch him on camera, but his art was used on this card, and he still has a shaved head, so this will have to do.
We also had a couple famous voices from Vs. playing in the events. On the left is Squire "HomerJ" Simpson. On the right is Joe "RiderKick" Tonello. Both are class acts.
Finally, we had the top four losers… Martie and myself.
Dave, Martie, and Myself all made top fours this year only to finish 2nd, 3rd, and 4th respectively. I guess we'll all just have to try again next year for that trophy!
I'll end by showing you a picture of one of the card halls at midnight. Gamers never sleep!
See you next year!
~Scott