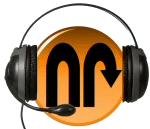 This week Tom is joined by Alan, Kieran, and the special one, Mr Adam Radcliffe, to discuss all the important topics in gaming.
How do the Newbs react to government budget cuts affecting the games industry?
How does Microsoft manage to make them all smiley and giggley inside?
How can you win Medal of Honour Beta Codes?
Listen to the show to find out…
MP3 Download / iTunes / RSS Feed
Medal of Honour Beta code treasure hunt (part 1 b) BWG8 Have you been to our forum recently?
Podcast: Play in new window | Download