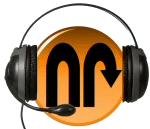 It's the big 5-0 ladies and gents, Episode 50 of the newbreview.com podcast!
I know, how/why did we make it this far?
To celebrate this landmark, Kieran is joined by newbreview.com writer (and making his podcast debut) Jose Luis Perez Zapata as well as everybody's favorite idiot, Adam Radcliffe.
The best games release of the week, Adam thinks and a special interview with Matt Roche from 2K Games about the upcoming The Darkness 2 by returning newb, Ian Young is what's in store!
MP3 Download / iTunes / RSS Feed
Podcast: Play in new window | Download