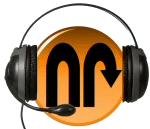 Sorry delays an all that. As you will hear from the lack of sound bites and general audio quality, we had problems putting this bad boy together!
ANYWAY
This week podcast regulars Tom, Kieran, and Adam are joined by a very
special guest: Gavin Stevens, from Team Blur to discuss his upcoming
game Overdose.
Also discussed on the show: Adam's luck with the ladies, what the guys
have been playing, and the best game released this week.
MP3 Download / iTunes / RSS Feed
Podcast: Play in new window | Download