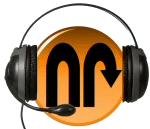 The lovely rogues are back once again as Kieran and Adam (and a small cameo from Future Adam) join Tom for another week of gaming antics.
Adam brings with him a brand new 60 second review, Kieran brings with his a new soapbox segment and together the trio discuss what they've been up to (with hilarious consequences) their best WTF moments in gaming and of course what they're going to be playing.
A short one, but a good one.
MP3 Download / iTunes / RSS Feed