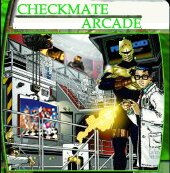 The audio level floats all over the place in this episode. Now that we know the quirks of the latest Skype update, this shouldn't happen again. Friend of the show Ginyu joins us this week with a trip down PC classics lane. While Steven and Jason experience Ken's Rage with the Fist of the North Star demo. They also pay a visit to the Forsaken Kingdom demo and Jason finishes Red Dead Redemption.
For an MP3 copy of the show, right click the link and choose Save As.
You can also get the RSS feed right here:Â  RSS Feed
If you'd like the show notes, click the more button.
[H:MM:SS] – Show Time Line
——————–
Opening Song (Overture – Halo: Reach OST)
[0:00:53] – Introductions
[0:04:32] – Ginyu's Now Playing
-http://www.youtube.com/user/Ginyu2007
[0:14:44] – Jason's Now Playing
[0:47:13] – Steven's Now Playing
[1:05:35] – News
[1:52:58] – November Coming Soon
[2:10:22] – Wrap Up
[2:14:43] – End
Podcast (checkmate_arcade): Play in new window | Download