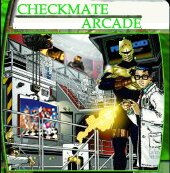 This week Steven and a special guest from our friends list do an extensive recap of PAX West 2010. Jason is both happy and unhappy with BioWare at the same time. Tune in to find out why.
For an MP3 copy of the show, right click the link and choose Save As.
You can also get the RSS feed right here:Â  RSS Feed
If you'd like the show notes, click the more button.
[H:MM:SS] – Show Time Line
——————–
Opening Song (Track 3 – Castlevania: Order of Ecclesia OST)
[0:00:38] – Introductions
[0:03:44] – PAX West 2010 Impressions
[1:37:32] – Jason's Now Playing
[2:05:59] – Wrap Up
[2:10:55] – End
Podcast (checkmate_arcade): Play in new window | Download